Testimonials

Dear Bob,
I'm writing to let you know how thoroughly satisfied I am with the job your company just completed for us. This significant investment in quality fencing couldn't have been installed in a more professional manner.
Martin was a pleasure to work with! He and his crew arrived on time and prepared to work each day. His attention to detail and desire to do the highest quality work helped to produce such a fabulous end result. The difficult nature of this particular job necessitated many decisions and judgment calls, which he consulted me on every step of the way.
During our renovation process, I have been working with many different tradesmen and I have to say that your company has been, by far, the best to work with.
Please don't hesitate to use me as a reference or our property as an example when consulting with future clients.
Thanks for a GREAT JOB, Pamela M.
"Thanks for a super job! Your men were so cooperative . . ."
Marilyn S.
"Your crew did an outstanding job, and they were fast, polite, and neat!"
Trish M.
"I am very impressed with the way you handle your business . . . and your men were all courteous and efficient."
Diane H.
"I want to commend your crew for a job well done. Your foreman was nice to work with, he represents your company well."
Raymond E. M.
"Great job! I really appreciated your foreman . . . very polite and professional."
Daryl N.
"Thank you so very much – you are a great team."
Brigit O.
"Very pleased with the work . . . your crew is excellent and your foreman is outstanding. We would recommend your company anytime."
Frances C.
"Everything was better than expected."
Dawn K.
"Your crew was so congenial – polite – accommodating – efficient, I could run out of adjectives to praise their work . . . a worthy group of men."
Burt P.
"Thank you for the wonderful fence and the great crew . . . they kept everything so neat and tidy both during and after construction . . . fine work."
Susanna B.
"We are extremely pleased with our new fence and have received many compliments from friends and neighbors."
Amy and Clay W.
"A very clean and friendly crew talked softly among themselves and didn't play a loud radio and were very polite. They did a great job and all behaved like gentlemen. I am very impressed."
Mary K.
"A great job – worth every penny!"
Zora F.
"Our new fence is beautiful . . . Martin is a real artist and a hard worker."
Mr. & Mrs. W.
"Thank you for the fast, dependable, and honest service we received. This has been a joy!"
Carol R.
"I would like to compliment the crew that you sent to my home. They were courteous, industrious, and very skilled. Of course, I will recommend Bob's Fence to my friends and neighbors."
Stanton R.
"Thank you so much for the wonderful job you did on our fences – what a difference! Our parents were very impressed too!"
Jerry and Loretta S.
"You have a very efficient crew . . . they were very careful of our flowers and they were very polite . . . the quality of their work was excellent and the job was completed in record time. We will recommend your company to others."
Louis and Helene C.
"Want to let you know what a first class, professional job Martin and his crew did . . . the fence looks great! I also appreciated the 'quick response' to my questions and concerns taken by your office staff. Once again, a first class, professional operation!"
Mike P.
"The completed project was exactly as you said it would be. I relied upon your integrity and I was impressed by your efforts to maintain that trust. I can tell that you take your responsibility to your customers seriously."
George M.
"Thank you and your guys for a great job. I will definitely recommend Bob's Fence to anyone. The yard was left clean and not a single plant was damaged."
Chris T.
"We are so pleased with our new fence, it enhances the yard better than we ever thought possible. Your foreman was most professional and helpful. It's so nice when you're able to get fine, quality workmanship, it seems to be at such a premium these days. We are really satisfied with the job. Thank you for a great job."
Steven and Denise G.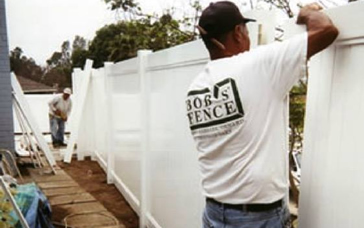 Construction Crews at Bob's Fence are the Best!
We often get unsolicited customer feedback praising their workmanship. Our installers are hard working family men, and a sense of responsibility and pride permeates their work -- good for us, good for our customers!
Contact us for a free estimate